Sola Scriptura!
It must have been an awestruck feeling to have been struck by lightning and waking up with the enlightenment that it is "In Scriptures alone!".
"It seemed to me as if I had been born again and as if I had entered paradise through newly opened doors. All at once the Bible began to speak in quite a different way to me…. The very phrase "the righteousness of God,' which I had hated before, was the one that now I loved the best of all. That is how that passage of Paul's became for me the gateway to paradise."- Martin Luther.
If God were to strike me with lightning only to resurrect me with the feeling of being born again for the love of Scriptures, I would put in the words of a friend in context- "let me die, let me die!" (and to be born again, born again!)
A series of lectures on Christology by Dr Ng Kam Weng, which started this afternoon opened my eyes to a more detail study of Scriptures. What is most interesting is how the authenticity of the Scriptures, namely the Gospel can be defended even in its own historicity of its penmanship.
The details are just overwhelming. I am still trying to grasp the ethereal essence of studying the Scriptures in this manner. Nevertheless, it was an afternoon of both being shaken and woken up. For instance, how the act of copy-and paste of certain parts from the Gospel according to Mark can be reconciled to the divine inspiration that was bestowed upon Matthew to write the Gospel as well. Perhaps, our perspective of divine inspiration in the writing of the Word of God has been somewhat a stereotyped one before this.
Dr Ng Kam Weng said nonchalantly," Eternal truth should be invulnerable to the changing flux of history." Hence, we ought to have courage to put the Scriptures to grippling tests.
And be assured to grapple the fruits of the grippling tests as well.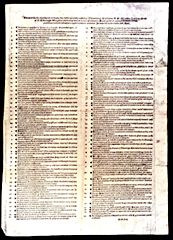 The 95 theses
Perhaps, in a similar way how Martin Luther have when he nailed the 95 theses to the door of Wittenberg Church.
'Disclaimer' for this entry- Was attempting to write about Catholicsm, amid a finite-viewed one in light of the the grim condition in the Vatican City, but my fingers ran away with the words "Sola Scriptura".
Perhaps it was just meant to be, meant to be.